Editor's Note: The following emails occurred on 8-January-1999. The only editing was replacement of names and cleaning up the spacing (not the grammar) of "Prince Charming" which was all over the place.
---
To: Unsuspecting
From: Prince Charming
Subject: Resume
Dear.........,
For the past few years I have been attempting to be the person that would desreve
a woman like you. And over those years I have been trying to be that person,with
some success.
I am applying for the position of your one and only one true love. I have many
qualifications that will allow me to succeed in this position on a permanent
basis.
My salary requirements includes your beautiful smile...
I have inclosed a copy of my resume for your consideration. Please review
it carefully when considering me for this position. Once again, thank you for your
time. I look forward to your prompt reply.

Yours Always,
Prince Charming
Resume
Objective:
To obtain the position of your love
and to be with you,to be your best friend, love you and take care of you.
Education:
Attending school of real love...
Career Summary:
15 years of dating other people
and determining that you are the one person that I'm attracted to the
most and wish to make her happy for the rest of my life.
Employment:
1998-present:unempolyed
Part-time girlfriend.
Responsibilities include caring, loving, sharing.
Hobbies:
Kissing, hugging, holding hands,being there when needed.
References:
Furnished upon request
--- [singles website legal disclaimer] ---
---
To: [List of Female Friends]
From: Unsuspecting
Subject: Resume
Do I even dignify this with a response? He can't even be bothered to
"fill in the blank" with my name! How low into desperation have women
fallen who respond this crap.
Oh well girls read it and laugh.
---
To: Prince Charming
From: Unsuspecting
Subject: Re:Resume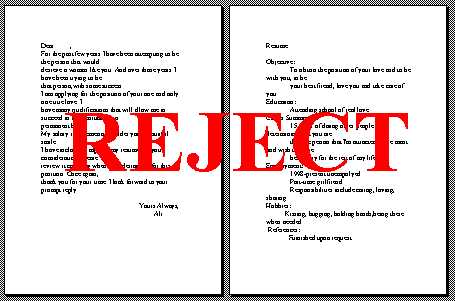 [REJECT.jpg]
---
Editorial Note: Was I being too cruel?
---
To: Unsuspecting
From: Prince Charming
Subject: Funny
No one replyed to me with a funny thing like you.. I got almost 400
letters...
You must be funny... do u have a picture?
--- [singles website legal disclaimer] ---
---
To: Singles Website Customer Service
From: Unsuspecting
Subject: Spammers
I'm curious. I received a form email that I thought was a cut-n-paste
message. I told the guy I wasn't interested. He, in turn mentioned having
gotten 400 responses, which meant he was able to spam Match.com's user base.
I'm not particularly happy about being spammed, and thankfully it doesn't
happen all that often thru your service, but it does indicate some kind of
a security gap in your system you may wish to address.
The spammer in question was Prince Charming
---
To: Unsuspecting
From: Singles Website Customer Service
Subject: Re:Spammers
We are sorry to hear that you received a correspondence that you found
disturbing.
Please send an email to the member, stating that you would like them to
discontinue all correspondence with you. If they continue to send you
email, through our anonymous email system, please forward ALL email
correspondence to Match.Com Customer Care at . This
would include any and all email to them from you.

Upon receipt, we will investigate the matter and take appropriate action,
if necessary.

Thank you for your inquiry.

C.C. [Name withheld]
Singles Website Customer Service
---
Editorial Note: I've now gone from Stupid to Pathetic

© 1999.

Created: 8-January-1999

camilian since 1-May-1998

Home | Feng Shui | Book Marks | Numbers | Millenium Calendar | Humor | Tarot Classes UFO Photo What's New

Camilian Humor hits since 10-February-2000: