-----BEGIN PGP SIGNED WEB-PAGE-----
Bday: 07/15/1957
E-Mail: mjbird@skypoint.com
SCA name: Umberto delle Cento legnhe di Acro


Quote:

"Woe unto you also, ye lawyers, for ye lade men with burdens grievous to be borne, and ye yourselves touch not the burdens with one of your fingers."

  -- New Testament, Luke, XI, 46
---
My family members:
---
Things I do for fun
I am a member of the

Society of Creative Anachronisms .
I am a subject of the

Kingdom of the Middle
within whose borders the

Principality of Northshield resides,
and locally I am in the

Barony of Nordskogen.
I am a member of the Black Bear chapter of

House Corvus.
I am a tasselled archer, an archery

Marshal In Training. While I haven't been active for the past couple of years, the last major thing I did was to plan and run the archery portion of this event: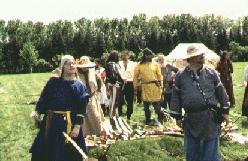 Schutzenfest III
I'm also an apprentice

Chirurgeon
and I'm in the process of preparing the paperwork to submit the name Umberto della Foresta di Cento Acri as my society name.

I'm also preparing to submit paperwork for a badge (shield design).

I am fond of Winnie-the-Pooh. One of the best sites I've found is The Page at Pooh Corner.
My family and I beling to the Rapids Archers Club located in the Bunker Hills Park in Coon Rapids. Both of my children and I shoot archery, using "traditional" archery equipment. ("Traditional" archery doesn't use man-made composites or metal bows and arrows, also we keep to the longbow, flatbow and recurve styles of bows. For those interested, I shoot a 45 lb. recurve, drawing 54 lbs at 30 inches.)
I work for

Financial Information Management, Inc. of Eden Prairie, MN.
And, my service provider is

Skypoint of the Twin Cities and Duluth, Mn.
Finally, I'm also a member of the DNRC, so here's the requisite link to

The Dilbert Zone

---
Non-profit organizations I support:





---
Home pages of my friends (that I know of):
---
---
Last Updated 02/03/2002 18:58:57 UT GMT


-----BEGIN PGP SIGNATURE-----
Version: GnuPG v1.4.7 (Darwin)

iD8DBQBHc8NqkjFezyLOo0IRAtUDAJ9J0GSSrsSvPZFgBNP9f9vvpQMk/QCfZ0Ik
UNrHB4A7G1bHxbpEzbK/89s=
=i+IE
-----END PGP SIGNATURE-----