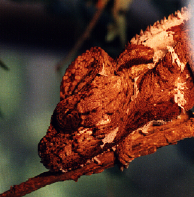 Chameleon Import Data

January 1988 - June 1994
The data found below was summarized from the USFWS Lemmis Database. It represents the reported import trade in chameleons January 1988 - June 1994. The Lemmis database files were obtained by request of the NYYTS, Allen Salzberg, through the Freedom of Information Act.

The quantities listed reflect the number of animals that importers and exporters reported on their bill of lading documents. It is common practice to report only a percentage of the animals shipped. Therefore, there is a significant 'Grey Market' of unreported animals. Additionally, these numbers published do not reflect chameleons involved in black market trade; nor do they count the animals which died during capture, or while being housed by the exporters.

The numbers represented here are only a small percentage of the animals taken from the wild for the chameleon pet trade.

Notable by their absence on this list are all members of the Brookesia group, although we know animals from these groups were brought into the United Stated during this time period.

Questions or comments about this information? Contact Mike Fry.

The data was provided by E. Bright, 1994.
GENUS
SPECIES
QTY.
CHAMAELEO
SENEGALENSIS
67,457
CHAMAELEO
JOHNSTONI
10,596
CHAMAELEO
GRACILIS
10,399
CHAMAELEO
DILEPSIS
8,509
CHAMAELEO
LATERALIS
7,157
CHAMAELEO
PARDALIS
5,704
CHAMAELEO
JACKSONII
4,206
CHAMAELEO
FISCHERI
4,072
CHAMAELEO
PARSONII
4,007
CHAMAELEO
CAMPANI
3,303
CHAMAELEO
CALYPTRATUS
1,676
CHAMAELEO
OUSTALETI
1,409
CHAMAELEO
CHAMAELEON
1,333
CHAMAELEO
MONTIUM
1,269
CHAMAELEO
MELLERI
960
CHAMAELEO
GLOBIFER
635
CHAMAELEO
BITAENIATUS
551
CHAMAELEO
MINOR
391
CHAMAELEO
ANTIMENA
370
CHAMAELEO
BALTEATUS
367
CHAMAELEO
NASUTUS
324
CHAMAELEO
WILLSII
302
CHAMAELEO
VERRUCOSUS
300
CHAMAELEO
QUADRICORNIS
290
CHAMAELEO
AFRICANUS
250
CHAMAELEO
HOEHNELII
231
CHAMAELEO
LABORDI
163
CHAMAELEO
LATERISPINIS
25
CHAMAELEO
FUELLEBORNI
100
CHAMAELEO
WIEDERSHEIMI
100
CHAMAELEO
OSHAUGHNESSYI
81
CHAMAELEO
BELALANDAENSIS
80
CHAMAELEO
CRISTATUS
65
CHAMAELEO
MARSHALLI
48
CHAMAELEO
GASTROTAENIA
36
CHAMAELEO
RUDIS
35
CHAMAELEO
EISENTRAUTI
33
CHAMAELEO
MALTHE
27
CHAMAELEO
BOETTGERI
26
CHAMAELEO
BIFIDUS
25
CHAMAELEO
DEREMENSIS
22
CHAMAELEO
RHINOCERATUS
20
CHAMAELEO
ZEYLANICUS
20
CHAMAELEO
OWENI
17
BRADYPODION
HAMNOBATES
12
BRADYPODION
DAMARANUM
7
CHAMAELEO
SPINOSUS
7
CHAMAELEO
PFEFFERI
6
CHAMAELEO
GALLUS
5
CHAMAELEO
WERNERI
4
CHAMAELEO
TENUIS
2
CHAMAELEO
NAMAQUENSIS
1
TOTAL
137,035