Ability Research News!
*****New Area Code! ***** ---->> (952) <<----
The area code for Ability research has changed from 612 to 952. The new 952 area code is effective March 2000. Please update your records as the 612 code has expired..
---

New Model!
8 Minutes recording tine -- more boards -- 16 minute expansion cards -- Lower price!
Hand Held Voice. (Model HHV-1B)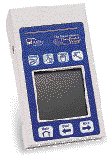 a portable, affordable, powerful,
dynamic display speech device!

---

BoardLink(tm) Software and download adapter for the Hand Held Voice
Now you can back up and restore your Hand Held Voice communication boards on your Windows(R) 95 or 98 computer! This is a great time saver. (Note: present version saves all boards but does not save or restore recorded messages).



---
Upgrades Available for owners of previous models of Hand Held Voice.
Model HHV-1 (2 minute models) can be upgraded to 8 minutes! This upgrade offers you several advantages:
8 minutes of recording time in the base unit
Compatibility with the new 16 minute expansion cards
48 board capacity in the base unit
---

Products Discontinued...

The following products are no longer available from Ability Research:
ACTV-1E and 2A
AS-1 (AbilitySpeaker)
LBM -1 , LBM-R (LightBeam)
LBS (LightBoard)
LSW-1 (LightSwitch)
Accessories for LBM or LBS
Service is still generally available for these products, subject to parts availability.
---

Face plates for Hand Held Voice. Avalible in green, yellow, cool gray, and purple!
---
You can now order most HHV products and accessories directly from us. Contact by phone, fax, or e-mail to place your order ( send PO or pre-payment by check - we cannot accept credit card orders at his time).
---
More Ability Research Products
Back to the Ability Research Home Page

---
Questions or comments about this page: email to ability@skypoint.com

---
Please read the Disclaimers and Notices about this page