ANNIE OAKLEY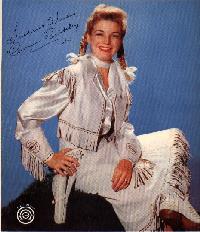 GAIL DAVIS
1925-1997
Born in Little Rock, Arkansas
BROADCAST HISTORY:
Produced; Apr 1953-Dec 1956 (81 Episodes)
Released;January 1954
CAST:
Annie Oakley.........................Gail Davis
Deputy Sheriff Lofty Craig.......Brad Johnson
Tagg Oakley.........................Jimmy Hawkins

---
"The Complete Directory to Prime Time Network and Cable TV Shows"
by Tim Brooks and Earle Marsh
---
Pigtails and pistols were the formula in one of the 1950's more unusual Westerns. Five-foot-two, 95 pounds, and cute as a button, Annie was also a crack shot and the scourge of badmen around her hometown of Diablo, where she lived with her kid brother, Tagg (the rest of the immediate family was unaccounted for). Towering Deputy Lofty Craig was her friend and silent suitor, and Annie's uncle, Luke MacTavish, was the seldom-seen town sheriff. Co-starring were the horses--Annie's Target, Lofty's Forest, and Tagg's Pixie.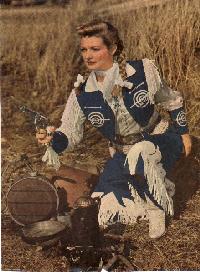 Gail Davis was discovered by Gene Autry, who featured her in nearly 20 of his movies, 30 of his own program's episodes, and then spun her off into this series of her own, which was produced by his company. She really was a good rider and trick shot, performing in Autry's traveling rodeo as well. She once said "So far as I'm concerned, I'm going to be Annie Oakley for the rest of my born days," and apparently she was right. Today she manages other celebrities.

The real Annie Oakley lived from 1859 to 1926, and was an exhibition sharpshooter for Buffalo Bill and other traveling shows. She traveled around the world, and once shot a cigarette from the mouth of Kaiser Wilhelm II.

Annie Oakley reruns were seen on ABC on Saturday and Sunday daytime from 1959 to 1960, and 1964 to 1965.



---
THE REAL "ANNIE OAKLEY"
OAKLEY, ANNIE (1860-1926)
---
OAKLEY, ANNIE , American markswoman, known for her spectacular trick shots with pistol, rifle, and shotgun. Born Phoebe Anne Oakley Mozee in Patterson Township, Darke Co., Ohio, she was the sixth of 8 children. At 9 she began to shoot small game and became so accurate a shot that, before she was 16, profits from selling the game in Cincinnati had paid off most of the mortgage on the family farm.


In about 1876 she challenged Frank E. Butler, a vaudeville-stage marksman, to a contest and beat him by a single point. Annie later married Butler and joined his act, shortly becoming the star herself. In 1885 the Butlers joined Buffalo Bill's Wild West Show, where Annie achieved her greatest fame touring in America and Europe for 17 years. From 30 paces she would shoot in half a playing card held on its edge, hit a dime thrown into the air, or cut a cigarette from her husband' s lips. She once performed the cigarette trick in Europe with Wilhelm the crown prince of Germany holding the target.


Her career was hampered after injuries from a train wreck in 1901 left her partially paralyzed; although she never recovered completely, she continued to tour for another 20 years. Annie Oakley died at Greenville, Ohio, on Nov. 3, 1926. Her life was the subject of the play Annie Get Your Gun by Herbert and Dorothy Fields with a musical score by Irving Berlin.

---
Here's a fact you may find interesting:
In days gone by, when a theater would give tickets to an actor or actress so that they could in turn give them to friends/relatives/agents/whatever, they would first punch a hole in the ticket, so that when the night's box office receipts were counted up and compared to ticket stubs, they would know not to count the complimentary tickets.

A ticket with a hole punched in it looks somewhat like a playing card with a hole shot through it, a stunt that Annie evidently performed. This led to complimentary tickets being called "Annie Oakleys" and eventually, "Annies".

Nowadays, box office accounting is done in a more computerized way, and the days of punching holes in complimentary tickets are through. Complimentary tickets are now referred to as "comps", a term with much less romance and history behind it if you ask me. -Bob L.RSLancastr@aol.com