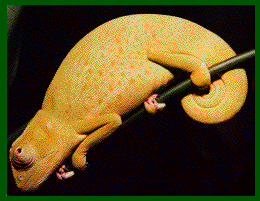 An adult male Chamaeleo Senegalensis.

Photo provided by Jason Deines. © Copyright 1996 Jason Deines. All rights reserved.
Chamaeleo senegalensis
---
The story of imported Chamaeleo senegalensis is tragic. Of the thousands of animals imported, only a handful have survived more than a couple of months in captivity.

Many of them arrive in the US dead. Still more die on their way to the wholesalers, jobbers, and pet shops.

These delicate animals have little or no hope of surviving once they land in a pet shop, most of which have no clue how to care for them.