---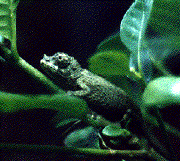 Captive Bred Jackson's Chameleons
(Chamaeleo jacksonii xantholophus)
---
0.0.3 Animals Born 12/25/96
Large, healthy, robust animals
$100 each or $75 for CIN Members 20.0.0 Animals Born 7/21/97
Eating well. These animals will be available in October, when they are old enough for shipping. Discounts available for early deposits.
$85 each or $60 for CIN Members

Contact: Mike Fry for more information.

Animals from both clutches are from the same parents. Parents are large, colorful, unrelated animals. Hatchlings are raised on an assortment of home grown insects, including: young silkworms, waxworms, fruitflies, walking sticks, and young roaches. Pinhead crickets, while not home-grown, are fed a variety of fresh organic vegetables. Diet has been supplemented with Rep-Cal and Herptivite.
---
Download a complete care sheet by clicking HERE.
(Care sheet requires Adobe Acrobat Reader).