I've been playing with Volvo's since I bought my first one in 1989. To help me keep track of what I've done with them, I'm throwing a quick page together to hit the highlights.
The "Red Sled"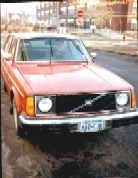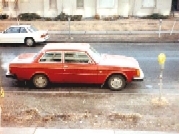 This was the first Volvo I ever owned, a '79 242 I purchased in '89 with 158k miles (b21 engine w. 4 spd Manual) People started accusing me of being a Yuppie.....that was unfair. I periodically needed to drive several hundred miles for my job, and needed reliable transportation, my prior cars didn't quite live up to that standard. Little did I know that other than having a reputation for reliability, they were very easy to work on, and could be maintained on a college student's limited budget w. basic tools. I didn't make any real modifications, just kept it running. I've come to terms with the fact that I'm hooked on these odd cars. It died in an accident in 1993 with 218k on the clock. It would have lasted longer I'm sure, and the engine would have long outlasted the body (this is Minnesota). It was starting to show a substantial amount of body rust when it went off to the scrapyard.
Improvements: (I put a new radio in does that count??) None, it ran and I was happy.
Work Done: Tune-ups, oil changes, shocks, struts, brakes/rotors, exhaust/muffler, plug wires, valve cover gasket, flame trap, accessory belts, lots of fusebox work
Work Needed: Injector seals, body-work, reverse inhibitor/lockout, Front passenger seat lock (for access to rear seat), parking brake shoes, AC switch cap tube
Cause of Death: Hostile encounter with large stationary object.

"Gus"
After replacing the sled with some newer wheels (a Toyota which has been very good to us), we needed a second vehicle to help deal with commuting and weird job schedules. It was an '86 740 GLE, b230f engine/4spd manual trans w. OD. I was the third owner, and best of all, the car not only ran, but needed work! I had 142k on the Odometer to start, and it died at 201. I had a lot of fun turning it into an extremely reliable daily driver. Not bad for a car that had a rough childhood. The transmission grenaded on me last year, and (once again) I needed transportation. I thought long and hard about keeping it as a "project", but donated it to a trade school. As far as I know it's still on the road. I just didn't have the time to take on a new project. Despite its looks (body by Kelvinator) it was quite refined. It was hard to give it up.
Work done: tune-ups, AC compressor, Alternator, front seals (all of them), distributor, brakes/rotors, headliner, blower motor, plug wires, shocks/struts, springs, rust treatments/spot-painting, flame trap, tie-rod ends, exhaust
Improvements: Conti ch90 195/70 r14 tires (summer), Bridgestone Blizzak 185/70 r14 (winter), sunroof wind deflector, Boge T-gas struts/shocks, Overload coils (rear), door trim bumpers, headlight shields/guards, Synthetic fluids (Oil and Trans).
Work needed: New leather seat coverings, radio antenna ground, seat heaters, power antenna, parking brake shoes, gas cap cover door, transmission (DOH!).
Cause of Death: Transmission (although quite possibly fully repaired and running right now)



The "New Ride"
This is the replacement ride, a '91 244 DL, b230f engine w. m-47 (honest-to-god) 5-speed transmission. 132k on the odometer at time of purchase, and in pretty good shape. My wife was happy that I finally bought a car that was actually made in the same decade in which we lived (although just barely). My only gripe, is that it's not a 700 series. There used to be a hitch on the back end (2 inch, anybody want one?). I pulled the whole thing off when I did the exhaust recently.
Work Done: Tie-Rod ends, brake pads, front struts, front wheel bearings, rear trailing-arm bushings, front seals, tune-ups, re-seal windshield trim surround, fuel pressure regulator, clutch, O2 sensor, cat...old car stuff.
Improvements: GT chassis Braces, Starla Free-flow turbo exhaust (IPD), Tachometer added to instrument cluster, dash clock, Yokahama AVS/Intermediate tires, 205/60 r15 (summer) on 10 spoke (Nova) alloy rims, Hakkapeliita Q 185/70 r14 (winter)on 10 spoke (Dersus) alloy rims, synthetic fluids (Oil and trans), door trim bumpers, R-134a AC upgrade, Magnecore Plug wires, IPD overload coils, E-Code Headlamps, front headrest cushions.
Work needed: small oil leak "down low" some where, replace windshield trim surround, new belly pan, motor mounts.
Planned Projects: Voltmeter in dash (mounted, but not connected yet), performance camshaft, Bilstein shocks/struts, Turbo Sway Bars, fog/driving lights, electric cooling fan.
Cause of Death: I'm holding out for old age.......



If you have any suggestions, additions, or comments, you can send them here.


Check out my Volvo resouce list for the metro areas of St. Paul/Minneapolis.