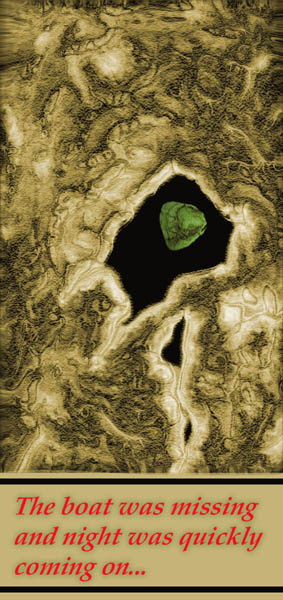 HE DIDN'T RECOGNIZE THOSE WAVES...

...and the green rock that loomed before him seemed to be from another movie altogether. Teresa had warned him not to go sailing in the Volcanic Lake system, especially so late in the day, but he was a proud man, full of middle-aged bluster, and so he took the small dinghy out into Grumpy Lake, carrying only five dollars in change and a cold fish sandwich. He now had a stomachache from the sandwich, and was beginning to wonder if it was - instead - the nascent signs of a heart attack? His father had died at the age of 23, having never seen Barstow.

The smell of sulfur was quite pronounced here, wherever he was: it was almost perfectly black, but for the creepy green glow of the rock in the distance, and he began to think that he had made a big mistake, one that made his decision to marry Teresa seem almost quaintly charming by comparison. By just turning his head slightly to what he thought of as the West, he could hear a faint twitter of voices and the throbbing of an odd drum. It certainly wasn't Bach, but - honestly - he had never fully appreciated the music of Bach, preferring Arthur Godfrey and TV theme songs.

To embolden himself, he began to whistle the "Andy Griffith Show" theme song. The drums and voices seemed to echo the tune.