MIRWATCH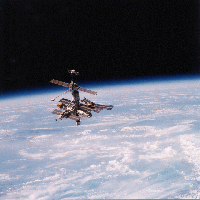 News and Comments by Ben Huset
Aug '96 - ???

Thanks for visiting Mirwatch
Due to personal scheduling problems Mirwatch is on hiatis. Below are links to other 'on-line' Mir info sites.
If you have access to NASA TV, I encourage you to watch Mission Update every friday @ 10:30 am Central Time. Its re-broadcast later in the day too.

MIR NEWS by Chris v.d. Berg


MirWatch by Ben Huset (On Hiatis)


Keith's R0Mir Mir Page Mir's Amateur Radio Station info by Keith: K5WX


Messages from Mir Space Station @ IK1SLD's Geocities


Mir Space Station @ IK1SLD's Geocities


Mir 24 Status Reports @ FTP NASA HQ


Mir 24 Weekly Reports @ WWW Shuttle-Mir.NASA.gov


Russian Space Program Updates @ Reston Communications Publication
p>
Mir Prediction Forms and tables

SatPasses Home Page Pass info for 77 US/Canada cities on STS, Mir, HST & UARS


Earth Satellite Ephemeris Service Now checking 850+ Satellites @ GA SU


Satellite Tracking Prediction Form by Lou Williams @ NCSU


Amateur radio operators can log into the Mir 'Packet' (R0MIR-1) BBS on 145.550MHz simplex And soon on 435.775MHz uplink / 437.975 downlink MHZ. The cosmonauts also use the freq. 145.200 MHZ, up and 145.800 MHZ down or 435.725 MHZ Up /437.925 MHZ down or 145.550 MHZ simplex to talk or send SSTV video with amateur radio operators on the ground during their off-hours.

Check out the Virtus Model, VRML, and QuickTimeVR Mir Space Stations @ Liftoff
Also Lots of Russian VRML Models at Virtual Space Museum
-30-

Surf more about it. Some on-line Mir/Pepsi photos news can be found here:

Check out these sites
Previous ON-line Issues
Send Comments/Suggestions on this page to BenHuset@SkyPoint.com

| | |
| --- | --- |
| Web Pages by | Ben |
| Last Updated: | Aug 20, '97 |